The Honda Foundation and Peter Warren Honda in the Sydney suburb of Warwick Farm have come together to lend a helping hand to Multiple Sclerosis Ltd by donating two specialised 'Mobi' floating beach wheelchairs.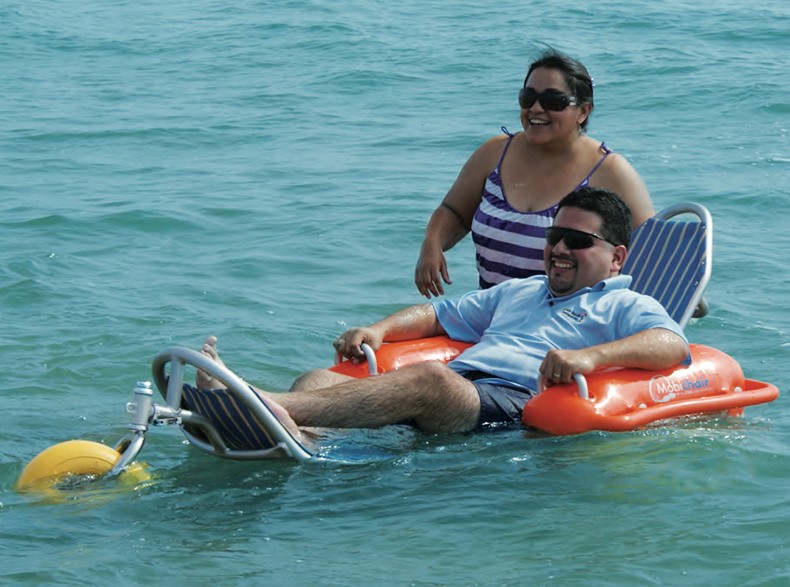 Multiple Sclerosis (MS) is a chronic and often disabling disease that randomly attacks the brain and spinal cord manifesting in a wide range of symptoms that vary from person to person and are often invisible.
Multiple sclerosis affects more than 13,000 people in Victoria and NSW alone. Sixty-three per cent of those diagnosed have some form of physical disability making a simple activity like swimming in the sea difficult.
"The Honda Foundation is honoured to be able to assist people living with multiple sclerosis," the chairman of The Honda Foundation, Mr. Stephen Collins, said. "We are pleased that the Mobi-Chairs will provide countless hours of fun in the sun for many families."
The Mobi-Chairs will allow people living with MS the opportunity to go to the beach and into the ocean hassle free. The large armrests transform into stable floatation devices once in the water that keep the chair afloat.
The chairs will be located at the MS Studdy Centre, Lidcombe NSW and the MS Nerve Centre, Blackburn VIC where they will be available to people living with a high level of disability to loan for a two-week period.
"The quintessential elements of the Australian summer are sun, sand, sea and being able to visit the beach. Getting
into the water is something most Australians take for granted." Said Sandra Walker, Acting CEO, Multiple Sclerosis Limited.
"The Mobi-Chairs, gifted by the Honda Foundation, will allow many people living with multiple sclerosis to get onto the sand and into the water, perhaps for the very first time in their lives, enabling them to experience a day of sun, sand, surf, and lots of FUN!"
The Honda Foundation aims to assist local communities at a grassroots level. For every new Honda vehicle sold in Australia, the dealership donates $5 and Honda Australia donates $10 taking the total to $15.
Last year Honda Australia sold 46,783 vehicles, so each donation provides strong support for The Honda Foundation.
More than $10 million has been donated to hundreds of worthy causes, including empowering disadvantaged Australians, providing relief for victims of natural disasters and supporting the development of new technologies and research to fight disease.
In NSW and ACT, The Honda Foundation has donated $2.7 million since inception, 26 years ago.