Following on from The Honda Foundation's $100,000 donation to Rural Aid Australia, 20 staff from Honda Australia's head office travelled to north Victoria to remind the community there that although they might be doing it tough, they aren't doing it alone.
The initial monetary donation allowed Rural Aid to send volunteers to struggling farms in rural and drought-affected communities to assist with maintenance of farms to keep them in operation.
The next step in the partnership saw Honda Australia staff volunteer their time and skills to Rural Aid's Farm Rescue program which kicked off in Kyabram Victoria for 2019 on March 18.
20 Honda Australia staff members made the journey up to Kyabram motivated and committed to help the community. Teams were allocated and sent to various locations across town such as; Fauna Park (Wildlife park), the Community Gardens and visited farms to drop off hay bales for cattle and repair or service any tractors and motoring equipment.
Some of the Honda engineering team put their practical skills to use repairing tractors and quad bikes and other essential farming equipment that needed a little TLC. Across Fauna Park and the Community Gardens, Honda Australia associates painted bird aviaries, repaired irrigation systems, cleaned up the parks and did some gardening to help the development of the areas.
"We are so humbled to be able to offer some support to Rural Aid and Kyabram. We have loved seeing our donation come to life and seeing so many of our staff members join in and offer arms and legs. It was very emotional seeing the effects of the drought to local Australian farmers who provide communities all across the country with so much" said Chairman of The Honda Foundation, Mr. Stephen Collins.
Wayne Thomson, General Manager of Rural Aid said that the support from The Honda Foundation has made a huge impact in their efforts to help farmers through this very tough time.
"It was a pleasure having Honda Australia staff volunteer for the day, we are extremely grateful for their efforts throughout the day and the constant support The Honda Foundation has given us through their donation" said Mr. Wayne Thomson.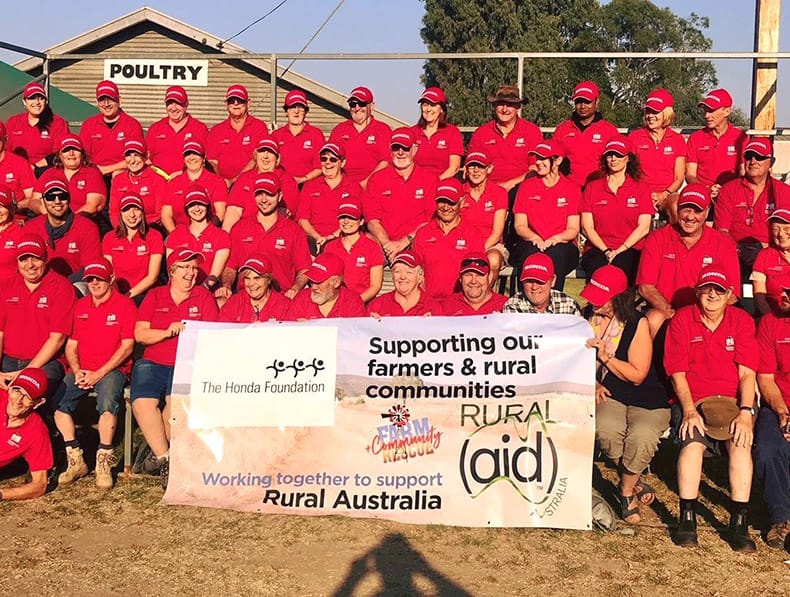 Amongst Honda staff, there were many other volunteers who packed their camper vans and bought along their dogs to not only visit rural Australia but lend a helping hand to Rural Aid and the Kyabram community.
The Honda Foundation believes in the power of helping others which is why they are determined to help fund and empower organisations that are focused on helping others.
To volunteer in Rural Aid's Farm Rescue program visit www.farmrescue.com.au to find out more.
For every new Honda vehicle sold in Australia, the dealership donates $5 and Honda Australia donates $10. More than $10 million has been donated to hundreds of worthy causes across the country, including empowering disadvantaged Australians, providing relief for victims of natural disasters and supporting the development of new technologies and research to fight disease.