The Honda Foundation donated over $6,000 to the Prostate & Breast Cancer Foundation in New South Wales, to help fund their virtual reality program, which reduces stress and anxiety of patients before and after chemotherapy and radiation treatments.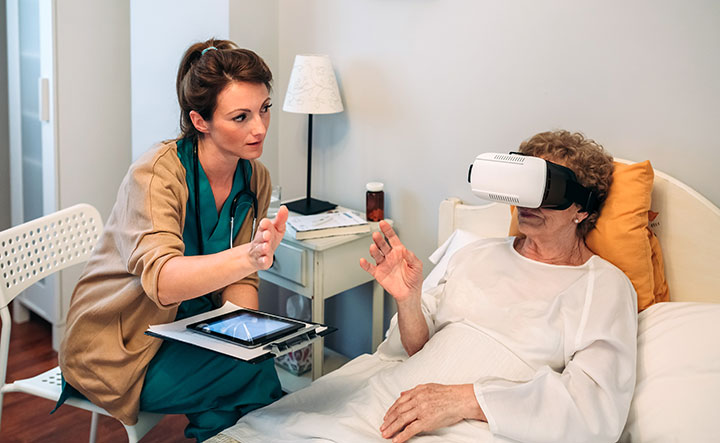 The Prostate & Breast Cancer Foundation works to improve the quality of life for people with cancer. The Foundation also supports important medical research at St George Cancer Centre into new targeted therapies, chemo and radio-resistance, and biomarkers that give us new ways of detecting cancer early.
In 2020, volunteers became aware, through social work and nursing staff at Sydney's St George Hospital that patients were experiencing increased levels of anxiety and stress, related to COVID-19, and their treatment.
"The support of The Honda Foundation for this initiative has been fantastic. It means hope of a real benefit to patients in alleviating treatment side-effects like anxiety or pain. Alongside this, Honda's support has enabled us to begin research that will show how to best use the technology to improve quality of life for cancer patients in the future," said Reg Woodleigh, Director Prostate & Breast Cancer Foundation.
Researchers in social support and psychology discovered that virtual reality (VR) offers a solution to patients in distress. This project aims to run sessions using eight VR devices for patients to lower their stress and anxiety before and during treatment. This program will also allow for the Prostate & Breast Cancer Foundation to enable further research on the impact and effectiveness of VR sessions.
The VR sessions offer a patient an all-encompassing experience of watching ocean waves, birds flying or country scenery, which instils calmness and peace during treatment.
"Virtual reality is a great way to not only educate people but to support people through difficult times," said Stephen Collins, Chairman of The Honda Foundation.
"We have supported virtual reality equipment with previous donations and have seen the benefits of it. We are very proud to be able to support the Prostate & Breast Cancer Foundation with this program."
Since 1992, more than $13 million has been donated by The Honda Foundation to hundreds of worthy causes and local charities, so they can continue their good work and provide support and relief to people in need.