In September, representatives from the Honda Foundation visited the team at St Vincent's Hospital Melbourne, to view the new wound care therapy equipment that was purchased with donation money from the foundation.
What was purchased were vacuum assist wound (VAC) devices which are portable, battery-powered devices that draw fluid away from wounds to assist with the healing of injuries, for example, an infected wound.
These new devices will shorten the time a patient needs to stay in hospital for, which reduces costs on the hospital and allows families and friends to visit their loved ones from the comfort of their own homes.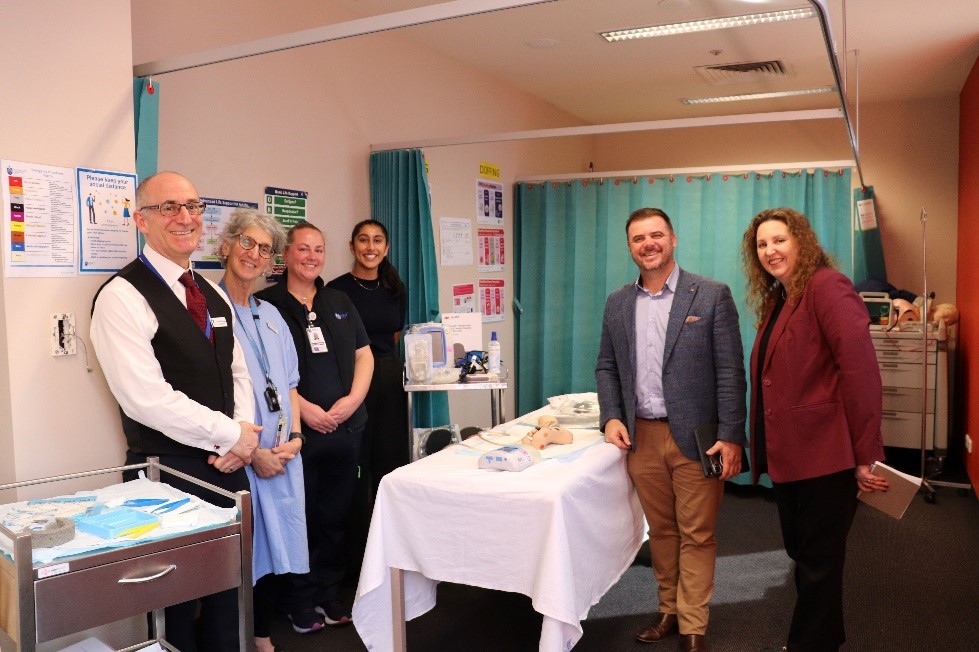 Image: The St Vincent's staff from the left include Richard Prentice – Head of Trusts and Foundations, Georgina Mangan-Georgiou - Clinical Coordinator – Central Equipment Library, Casey Sievers - Vascular Clinical Nurse Consultant, and Nihal Singh – Podiatrist.
Casey Sievers, Vascular Clinical Nurse Consultant provided a demonstration of one of the wound care devices on one of the simulation models for our representatives, which are located in the St Vincent's education and learning area where staff are trained.
Within this building there is a central point for staff to loan equipment for use. This reduces clutter on the wards and provides a central point for accessing specialist equipment like the wound care devices for clinical staff.
Mr Damien Grinsell, Director Plastic Reconstructive and Hand Surgery, St Vincent's Hospital Melbourne, highlighted that negative pressure wound therapy has revolutionised wound care management in plastic and reconstructive surgery. "It is most commonly used to prepare wound beds for closure or to prevent infection in the cases of wounds which require complicated microvascular reconstructive surgery.
"Its benefits are numerous as it creates an ideal wound healing environment, this includes creating a water-proof sterile barrier, enhanced blood flow to the wound bed which speeds healing and a clinically proven reduction in bacterial counts in an infected wound."
We are very proud to be able to share stories like St Vincent's and visit their staff as it gives us peace of mind that the Foundation is doing good in the world, and our donations are being used to help benefit the lives of those across Australia.
A big thank you to St Vincent's Hospital Melbourne for hosting our representatives! Keep up your amazing work and we look forward to seeing the many ways you continue to save lives.